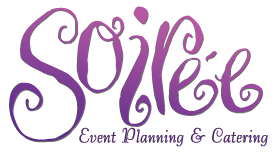 Soiree Catering and Event Planning is dedicated to the art of entertaining with style! We are Orange County's premiere full service caterer for corporate, social, and special events. For over twenty years our clients have enjoyed exceptional service, innovative menus and memorable events.

At Soiree our emphasis is on high quality, distintive food and exceptional service which has enabled us to attain a distinguished reputation throughout Southern California. Soiree Catering and Event Planning can meet the demands of any corporate event with our signature service options including menu design, staffing, decor, rentals, entertainment, site selection, transportation services and more.

Our experienced event planners will help you to create a memorable event for you and your guests.